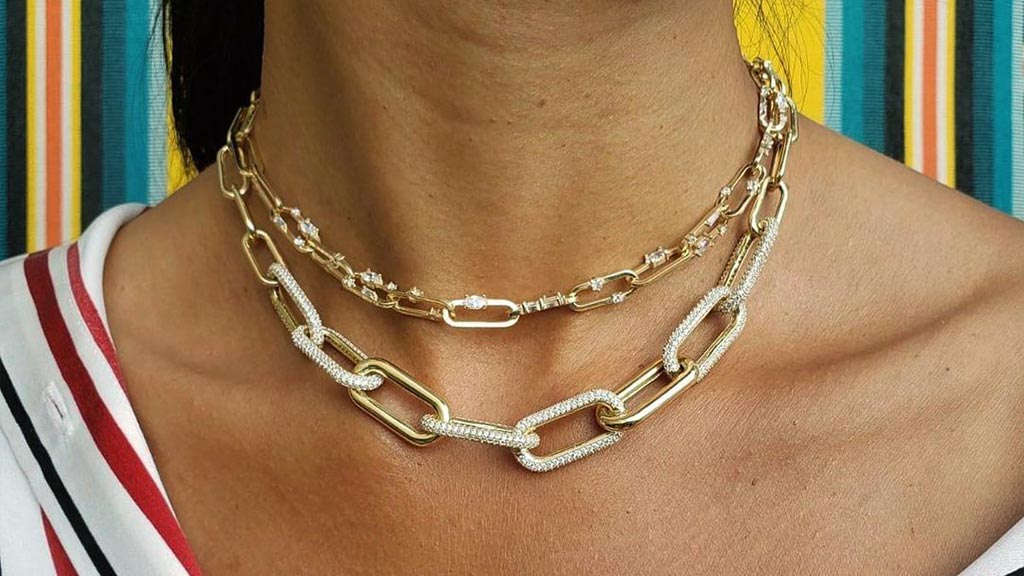 How To Choose The Right Necklace Length
Necklaces are one of the essentials when it comes to jewelry since they have been present from the beginning of human civilization.
In the past, necklaces had various functions, while the most common one was showing the person's status.
Today, necklaces are considered essential pieces that every woman needs to have in their accessory box. Also, even men started wearing them since they come in multiple styles and sizes.
Luckily, as we mentioned earlier, necklaces come in different sizes meaning that you can easily choose the perfect fit according to your height, constitution, and preferences.
However, it can be hard for some to distinguish which necklace length will suit you best. That's why it might be a good idea to check out our following guide on how to choose the right necklace length.
Why?
If you are wondering why it is essential to check out the necklace you plan on purchasing thoroughly, there are multiple reasons behind the idea.
First, most of us don't think too much before buying a jewelry piece that we like, especially around the holidays when the winter frenzy kicks in. However, buying a necklace without reconsidering other options often leads to rarely wearing it because it doesn't fit in with your wardrobe.
For others, it can be that you simply don't like the necklace anymore or that it was an unfortunate gift from someone.
Besides the piece not fitting in the wardrobe, it often happens that the necklace doesn't flatter you.
Choosing the right necklace length isn't that simple, especially if you have no prior experience on the subject; that's why we will thoroughly explain the best options below.
Standards
It's best to carefully take a look at all the options available in the industry. However, keep in mind that custom-made pieces you can order from a specific designer can be cut in any length.
Women:
Collar necklaces are worn tightly around the neck and are best worn with open neck clothing, while their length is usually around 14 inches.
Chokers are usually worn tightly against the base of the throat and can be worn with just about anything, while their length is usually around 16 inches.
Princess necklaces are worn on the collarbone and, like chokers, can be worn with almost everything while their length is around 18 inches.
Matinee necklaces are worn between the collarbone and the bust while their length is from 20 to 24 inches depending on the preferences. The best thing about matinee necklaces is that they are great for both business and casual wear.
Opera-styled necklaces are worn on the bust or a couple of inches below the bust and are worn best with evening wear while being 28 to 36 inches long.
Rope necklaces are usually worn just below the center of the bust and are best worn with evening or elegant business wear while being 36 to 42 inches long.
Men:
Men don't have that many options like women when choosing the right style and length.
In fact, there are four sizes they can choose from, including:
Necklaces worn at the base of the neck (for smaller men) usually being 18 inches long.
Necklaces worn on the collarbone are the most common-sized necklaces with a length of around 20 inches.
Necklaces worn a few inches below the collarbone ( a medallion can be added) with a length of 22 inches.
Necklaces worn above the breastbone with a length of 24 inches.
Now that you understand all the options available, the next step is to thoroughly explain the factors that can help you choose the right necklace length.
Your Neck
One of the quickest ways to find out what necklace size suits you best is to measure the extended length of the necklace you wear daily ( or double the clasped length. It's most likely the best necklace size for you, especially when it comes to fitting it with your wardrobe. However, if you want to find the perfect fit, take all of your body measures into consideration, including your body type, the shape of your face, your height, and the size of your bust.
We must accentuate that the most crucial factor in choosing the right necklace length is your neck since all necklaces touch the neck. Besides the necks having length and width, some also have wrinkles. Long necks can wear absolutely any necklace, while shorter and wrinkled necks have to try out different styles. Besides getting the neck measures, our best tip is to try out multiple styles before purchasing.
Your Face
Another important factor while deciding on the right necklace length is the shape of your face. The most common shapes include oval, square, heart-shaped, and round. For those that have a round face, try picking out a longer necklace with a pendant or a charm, possibly creating a V look that glides away from your face. Make sure to avoid round necklaces to ensure that your face doesn't appear rounder than it actually is.
Additionally, oval faces can wear just about any type of necklace while considering your neck, height, and body type.
However, heart-shaped and rectangular faces can wear any type of chokers. You can see that chokers are great for almost any face type. But, what if you wear a lot of turtlenecks? We advise avoiding chokers and similar types of necklaces. So, you can see that besides the shape of your face, it is important to consider your wardrobe.
Your Wardrobe
As we mentioned earlier, the next factor that will help you decide on the right length of the desired necklace is your everyday closet. We'll stick with turtlenecks as a wardrobe example. If you like to wear turtlenecks, go for beads or long-chain ropes. But, if you are full-figured or shorter, longer necklace pieces won't work too well.
When you combine your outfit with jewelry, make sure that the desired necklace enhances the way you look and adds up to your appearance.
Make sure to buy womens demi fine jewelry from a trusted supplier and avoid cheap and shady companies posing as certified firms.