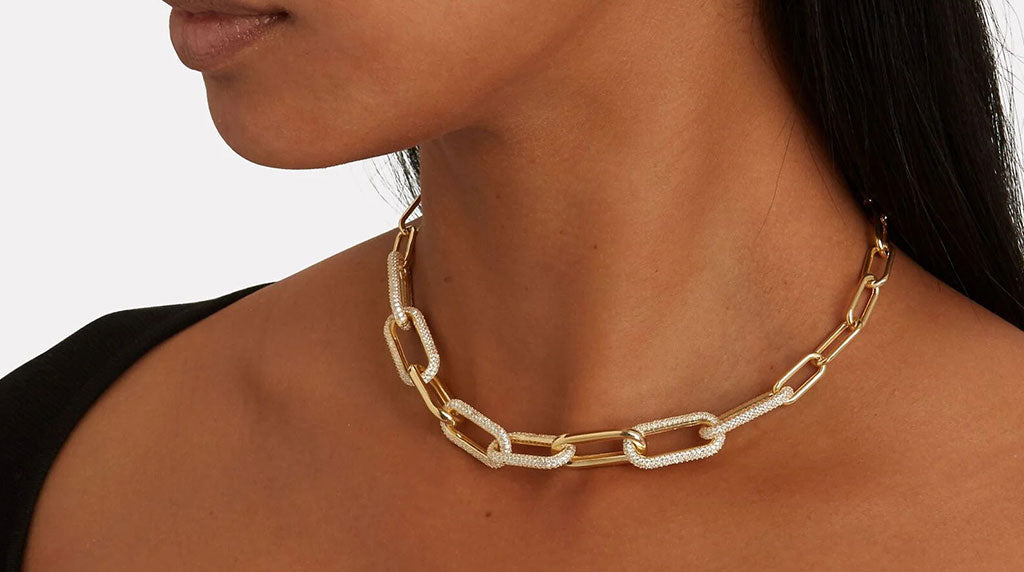 7 Ways to Style Your Chain Link Necklace
Chain link necklaces represent one of the rising trends in the recent time period, and it just keeps growing. There are numerous ways to style your chain link necklaces, depending on your own preferences. Another significant perk is that you can style your chain link necklace at home if you read the following guide on the best ways to do it.
Keep in mind that you can choose between various styles depending on the effect you want to achieve. Do not forget to check Nickho Rey necklaces., you might find something you like.
1. Box Chain
There are multiple styles, including thin and thick versions. One of the most popular styles is box chains (mainly described as squared links); they are different from round links and represent a boxy appearance (there are thin and thick versions). Women are prone to wearing thin boxed jewelry, especially with pendants.
So, if you are into basic styles that can be easily repaired, consider styling your chain link necklace box style.
2. Curb Chain
The curb chain is among the most popular necklace styles because it gives off a specifically masculine look. Its design is consisted out of circular links with an interlock that are layered flat together. Fortunately, curb chain-link necklaces range in styles depending on the width and the size of the links of your choice. Customer reviews state that curb chains are among the most durable necklaces making them very simple to style and repair.
3. Cable Chain
In third place on the list is the cable chain link necklace representing an open link chain piece. This cable chain can be made from round or oval-connected links, making it an excellent base for charm bracelets if you are into forming simple necklaces (or even bracelets) made out of metal. However, keep in mind that cable chain-link necklaces are much more challenging for reparation than box chains or curb chains.
4. The Curb
If you are into circular chains, the curb chain link necklace is the best choice. The links are interlocked and lie flat very close together, contributing to a somewhat masculine look. Again, curb chain-link necklaces can be made in different dimensions, especially the width. However, links are always styled in a universal size. When you compare curb chain-link necklaces to other styles, the links are very wide. The curb chain is very durable and relatively easy to style and repair.
5. The Flat Chain
When talking about the flat link chains, we mostly refer to cobra style or even serpentine. Although they break often, reparation is possible. Avoid hanging heavy charms because twisting and turning can result in damage to the necklace.
6. Rope
Rope chain-link necklaces are usually made out of intertwined gold, explaining the name (the look resembles a rope). You can choose different variants, depending on your own preferences( width and tightness, influencing the price). More metal would be used if you want a tighter braid, but the price will be significantly higher. If you choose between tighter or looser braids, keep in mind that looser braids are harder to repair.
7. The Snake
Snake chain-link necklaces are among the most elegant pieces you can choose. The name comes from the snakish texture resulting in a look where chain links are designed tightly together, forming a tube. Snake chain-link necklaces are generally thin and very delicate, meaning you can easily fit various pendants onto them.
How to Style Chain Link Necklaces Best?
Wide T-Shirts
Box chain-link necklaces can be worn with different clothing. However, one of the most popular looks is wearing a wide T-shirt and white sneakers, creating an edgy look that definitely makes a bold statement. Both men and women can wear this style as long as all the pieces are compact.
Smaller Necklaces
When it comes to smaller pieces, these delicate necklaces are a very versatile option. Although smaller chain-link necklaces represent subtle wear, they can definitely make a statement. If you're fond of a more soft and delicate styling, choose smaller pieces.
Medium Pieces
The medium-chain link necklace differs from the smaller version because the statement it brings is much bolder. It's chunkier than the predecessor adding the much-needed edge to casualty.
Large ChainLink Necklaces
If you want bold, consider getting any style mentioned above in a larger version. Oversized necklaces pieces are great if you are fond of a most minimalistic look when it comes to clothing.
Chokers
Choker chain-link necklaces are specially created for those who remember the 90s fashion well. Luckily, today, chokers come even in luxurious styles and all sizes.
Designer Necklaces
If you are into runway pieces, there are various accessory lines out there. There are even custom-made options if you're prepared to pay big money.
Layering
For those into custom-made jewelry that like layering their pieces by themselves, check out the following tips. It's essential to mix various lengths and widths while combining the right type of pendants and charms. If you want to achieve an elegant look, consider pairing up your chain link necklace with a tennis-type necklace or even a gold herringbone necklace.
Different types of layering include:
Layering with a tennis necklace
Layering with a coin necklace
Layering with a herringbone necklace
Layering with a diamond necklace (or a diamond pendant)
Layering with statements pendants and charms
Purchasing
In any case, purchasing the desired necklace might seem easy. However, if you plan to shop online, make sure to check out customer reviews for the best type of insight on the quality of the items. Also, try to do some window shopping before you buy, making sure the desired style soothes you right.
Caution
Some companies might pose as certified jewelry companies when in reality, the number of scams just keeps rising.  As mentioned before, check out the customer reviews and the company's policy on the firm's work ethics.
Summary
In general, there are numerous ways to style your chain link necklaces according to the desired style, but we advise checking out all of the mentioned styles before purchasing just to make sure you made the best possible choice.